Make-A-Wish MA & RI
Grant a Wish at Wine & Wishes 2015
Actually, don't just stop at 1….let's grant 10! That's right. This year's Wine & Wishes fundraising goal is to raise enough money to grant 10 wishes. (If you're counting, that's $75,000). Think about it…10 wishes…10 experiences of a lifetime for 10 critically ill children and their families from Massachusetts/RI granted in ONE NIGHT.
And you can help make that happen by drinking wine in the Seaport District. Sounds like a deal to us.
This October, YAC and Trusted Choice celebrate our 3rd Year as Presenting Sponsor of Wine & Wishes, a wine and spirits tasting to benefit  Make-A-Wish MA & RI. Several years ago the folks at Make-A-Wish MA & RI had an incredible idea that has blossomed into a substantial fund raising event run by and for young professionals. We are so excited to participate again in 2015.
Join the Young Agents Committee (many of us will be there) for a great night of wine & whiskey tasting, live music, silent auction and an incredible "Stock your bar" raffle. Plus meet and hear from wish families who have benefited from the kindness of a wish, and see firsthand the impact your support has.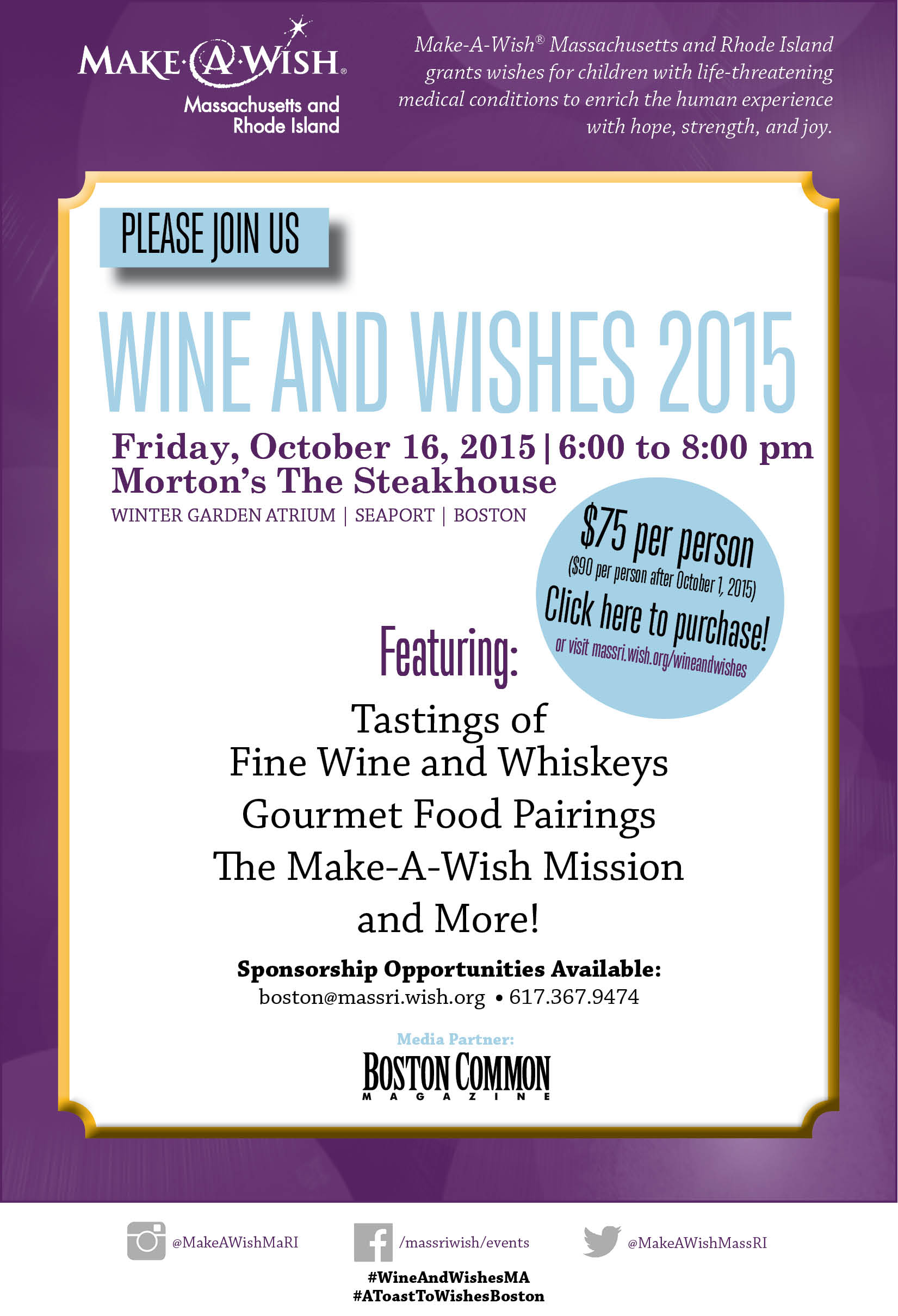 Buy Tickets Now
Those of us who have attended in the past, are looking forward to attending again. More about fun than networking, this is a great night to bring a spouse or a friend.

See More Event Info
We'd love for you to be part of this event. Join us by buying a ticket and sharing the event on social media with #wineandwishesMA.

See Sponsorship Info
You too, could be a sponsor. Is your agency looking to support a great cause? Have you used all of the matching charitable funds available to you from your carriers? No time like now.

**************************************************************************************************************

$45,000 Raised for Make-A-Wish MA & RI at "Wine & Wishes 2014". Boston, MA – October 17th – The Young Agents Committee of MAIA and Trusted Choice were delighted to be the Presenting Sponsor at the 2nd annual Wine & Wishes  on October 17, for Make-A-Wish MA & RI.

Wine & Wishes 2014 brought together 180 young professionals from the Boston area to raise money, to network and get a taste of the Make-A-Wish mission at Morton's The Steakhouse in the Seaport.

"It's a privilege be a part of this outstanding event for the 2nd year in a row.  To see firsthand the positive effective a wish can have on a child and their family as they undergo such a difficult time is truly the greatest reward. I'm honored to have helped make this evening a success and applaud the outstanding job done by the Make-A-Wish staff and the 2014 Wine & Wishes Committee." commented Rob Barresi, upcoming Vice Chair for MAIA's Young Agents Committee, who also chaired the Wine & Wishes Committee.  The final fundraising total for the evening was $45,000, which ensures that 6 wishes will be granted to children with life-threatening illnesses.

Many of us ended the night with a picture in the photo booth provided by Tap Snap. Here are a few pictures from the evening:

For more photos: Visit Make-A-Wish MA & RI Facebook Page. Thanks Make-A-Wish MA & RI for planning and executing a fabulous and successful night.

********************************************************************************************************************

2013: Young Agents, Trusted Choice and MAIA Sponsor Wine & Wishes to Benefit Make-A-Wish MA & RI

The MA Young Agents, with the help of Trusted Choice, were proud to be the presenting sponsor of an evening of "Wine & Wishes", an inaugural wine and spirits tasting fundraiser at Morton's in the Seaport to benefit Make-A-Wish MA & RI on November 15, 2013.

Committee member Rob Barresi of Roblin Insurance, helped to create this sold-out event, which brought together young professionals from many industries for a common cause. During the event we met wish kid, 4-year old McKinley and her Dad Nicholas, who recently traveled to Orlando to "Meet Mickey Mouse". Toward the end of the evening we were wowed by a musical performance from wish kid, Morgan Dzicek, who performed the song she wrote and recorded in Nashville about her cancer journey.

Wishes Granted! Proceeds from that night ($27,000+) will ensure that three children will have their wishes granted, including 8-year old Julian who wants to travel to Discovery Cove in Florida. A successful evening overall and we were so happy to be involved.